Hey y'all! Happy Friday!! I'm so ready for 5 o'clock to be here...
only three and a half more hours
...then I'm going home to take a nap and start enjoying the weekend. We had a blast last night at the baseball game - and the Hounds won, too!
Woot woot
! Maybe too much fun because I have been uber-tired
allllll
day, hehe, oops. Way to get the season started off on the right foot! :) I really don't have that much going on, so I thought I'd join in some fun and games with all you other lovely bloggers :)
So here's Five Question Friday from Mama M at
My Little Life
...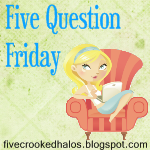 1. Who would you want to play you in a movie of you life?
Amanda Bynes, she's just so dang cute and funny! Gotta love a quirky girl. Plus, she's in great shape and has great style :)
2. Did you ever go to summer camp?
I went to Girl Scout camp, haha. It was a lot of fun!
3. What sends you running and screaming in the other direction?
Hmm...crying kids/babies. It terrifies me when they cry because I don't know how to make it stop. Other than that I really enjoy them :)
4. What is something you do that drives your spouse nuts?
Well I'm not married (yet! hehe), but it does drive Spence nuts when I'm late for things....and I have chronic lateness! I am late to everything. Ask any of my friends. Haha.
5. What is currently your favorite song?
"Outside My Window" by Sarah Buxton. It's such a happy song, I can't help but sing along and be happy :) I'm also on a huge Texas country kick because it's the.BEST.summer music. Ever. :)